The Child and Family Agency Tusla says it is starting to see a pressure on care placements because of the level of unaccompanied minors arriving here from Ukraine and other countries seeking protection.
Tusla says an "unprecedented" 386 young people had been referred to its services so far this year and almost half of those are now in the care of the State.
The Children's Rights Alliance has warned that in order to maintain its standards of child protection, Tusla will require more accommodation to be provided by Government and the public.
The Ombudsman for Children has called on the Government to ensure that adequate resources and supports are provided to ensure that Tusla can continue their work in this area.
Tusla says in an ordinary year around 90 children are placed in the care of the State after arriving alone into Ireland seeking international protection. But in just the first seven months of this year that figure almost doubled to 167.
62 of those children are from Ukraine but 105 have come from other countries, mainly Afghanistan and Somalia.
Tusla CEO Bernard Gloster said the system is beginning to feel the pressure of the rising numbers.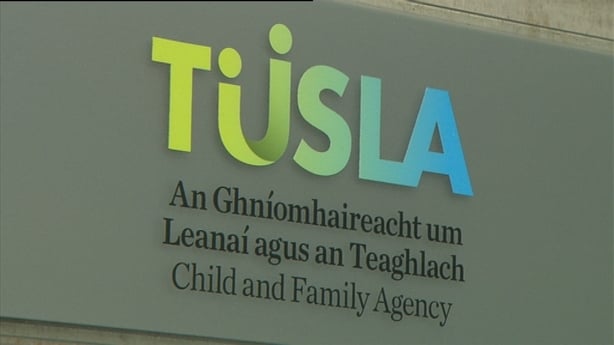 "We have a very specialist team who work in that field. That is hard work for them and it's a lot of additional work.
"We use foster care placements the same as we do for State care, we use residential care placements and we use what's called supported lodgings for those who are around 16-and-a-half, 17 years who have achieved a level of independence, but the pressure and the availability and supply of those placements is now increasing significantly."
Mr Gloster said that while they have not yet reached capacity across the services, he is concerned about the projected numbers.
"The last option for us is to move into what we might call an emergency or a very bespoke arrangement where we would have to use professionally trained care staff to work with a young person in a setting such as Bed and Breakfast, hotel accommodation or so on.
"That will be for the very shortest period of time until we can secure that care placement. Today with separated children seeking international protection, albeit pressured, we've managed to just about hold within what we would consider to be acceptable and reasonable. But obviously the trend projecting out into the months ahead, that is concerning."
Children's Rights Alliance CEO Tanya Ward says other European countries have had to lower their child protection standards to cope with the influx of unaccompanied minors.
"In other European countries, with increased numbers, what's happened is it's very hard for child protection and welfare services to maintain standards and quality standards of care for unaccompanied minors. So I think what's going to be really important for us in Ireland going forward, is making sure that Tusla is able to maintain their standards. We will need people to come forward and help with fostering, that's going to be very important, but we also need Tusla to be supported by way of accommodation.
"Children coming unaccompanied without their parents are particularly vulnerable to exploitation and trafficking, particularly when you're a part of a migrant population, so making sure that you have care workers on site, foster parents, social workers, that's even more important with unaccompanied minor refugees. And what will be very important is for the Government to process them as soon as possible because if they have a claim to remain in the country, then they can start reunification with their family members and bring their family members here to look after them.
Ombudsman for Children Niall Muldoon has says it is aware of the issues and engaging with Tusla about the supports they are receiving.
"The OCO [Ombudsman for Children's Office] appreciates the work being done by Tusla as a result of the unprecedented number of unaccompanied minors presenting to the service. This has put staff and resources under serious pressure and we call on the Government to ensure that adequate resources and supports are provided to ensure that Tusla can continue their work in this area. It is vital to ensure the rights and well-being of children arriving in Ireland are safeguarded and protected from the moment they land on our shores."
In a statement, the Department of Children said the minister acknowledged the significant increase in arrivals of unaccompanied minors and the demands it is putting on services.
"In the first instance, Tusla makes every attempt to contact relatives of the child and to reunite the child with family members or friends. If children cannot be reunified with family or friends, they are either received into the State care, or, if older and in line with their needs, are fully supported by Tusla in having an appropriate placement, education and other assistance.
"Tusla has a significant role, as part of the State's overall response, to support individuals, particularly women and children, displaced from Ukraine, as a result of the war and coming into Ireland. Tusla is committed to balancing the needs of families in a humanitarian crisis, with its child protection responsibilities, and requirement to support families and promote the welfare of children.
"Tusla has, in addition to the services outlined above, seconded a Principal Social Worker to the City West site (previously this social worker was based at the airport) who screens all arrivals of unaccompanied minors/separated children. This screening acts an anti-trafficking measure as well as a child protection screening. The PSW is also available to assist staff on site at City West where issues of a child protection or welfare nature arise for the families on site".
The Migrants and Refugee Rights Group NASQ says the increased numbers are not entirely unexpected due to the humanitarian situation in Afghanistan and the ongoing unrest in Somalia along with the risk of famine.
It says it is extremely important that Tusla is properly resourced to deal with the increase in numbers.
"The sole decision on whether or not an unaccompanied child may make an application for international protection is entirely at the discretion of Tusla, so it's important that well-resourced systems are in place. Unaccompanied minors are an extremely vulnerable cohort - they may have experienced trauma and violence and are now in Ireland without the care and support of family members.
"It is important that appropriate supports are in place to deal with any physical and mental health needs and wider integration. We think it is important that those unaccompanied minors who have applied for international protection have their claims dealt with as quickly as possible. If they are granted refugee status or subsidiary protection, they can apply for their parents and minor siblings to join them in Ireland via family reunification under the International Protection Act."
Original article can be found on https://www.rte.ie/news/ireland/2022/0720/1311318-minor-facilities/